Главная » 2013 » Ноябрь » 2 » PS3 Tools Collection 2.4
---
08:23
PS3 Tools Collection 2.4
Обновился набор утилит PS3 Tools Collection до версии 2.4
Новое в этой версии:
PKG ContentID 2.5 updated 2013-10-28!
It's a tool for view quickly the ContentID of a PKG. It also manages several file associations for a seamless integration with Windows Explorer. Please read the readme for details.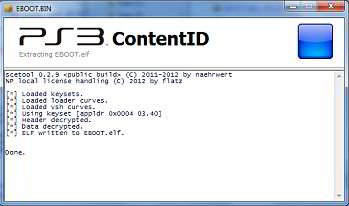 Download:
http://www.sendspace.com/file/mmj2m9
NOTE:
On Windows 7, the context menu for convert RIF/RAP files is not available when you select more that 15 rif/rap files. To fix this issue download
this registry fix
and double click on the
Fix_Context_Menu_Limited_to_15_items_on_Windows_7.reg
Changes in 2.5
- Improved the resign of EBOOT/SELF/SPRX (specially resigning system files) (thanks to smhabib)
- scetool_parameters.txt now supports per-game custom parameters
- Added shortcut to edit scetool_parameters.txt (click on the big blue-icon at the top-right of the window)
- Added option for download updates (click on the big blue-icon at the top-right of the window)
- Replaced the Make EDAT License PKG with "Make EDAT License for C00 games" (thanks to KW)
>> rename any blank file as content id (eg. EP1234-BLES12345_00-0123456789ABCDEF.edat) to convert it to a C00 edat
[+] Previous changes
Special thanks to
naehrwert, flatz, BuC, DeanK, acab, PatrickBatman
and many others ;)
PS3 Bruteforce Save Data 4.2.8 updated 2013-10-28!
It's a frontend for flatz save data tools 0.2.3. It finds the keys of several games in seconds and let you resign your saved games and trophies. A wide selection of cheats and checksums for 948 titles is also available ready to be applied to the saves.



Features:
Resign trophies or saves, preview images of trophies, direct FTP download/Upload saves or trophies from/to PS3, unlock saves/trophies to work on any PS3 account, unlock saves/trophies with FAKE account id, added
support for Game Genie cheats
, fixed issue with patch SFO, improved load time. Multiple saves can be resigned in a single step. Direct update of the repository of cheats from
ps3cheating.net
.
Patch Creator 1.8.5
plugin to assist in the creation of save patches and quick access to
PS3 Save Portal
with several saves that only need to be resigned.
Changes in 4.2.6 from 4.2.2
- Fixed (again) issue setting the current path in the recent Compress/Decompress function
- BSD in now integrated with the tool from Red-EyeX32 that decrypts/encrypts the saves from:
The Last of Us/Uncharted 2/Uncharted 3.
- Removed a 6 seconds delay when an encrypted save is double-clicked to open it on Patch Creator...
- Rewrote the support for code 6 on GG cheats (still partial/experimental)
- Fixed a bug with the checksums using dynamic ranges (eg. pointer to EOF-3).
- Added support for hmac_sha1 checksum in Patch Creator and Bruteforce Save Data.
(Includes hmac_sha1 key for The Last of Us/Uncharted 2/Uncharted 3 provided by Red-EyeX32)

TIP:
After you resign and replace your trophies, it is required to Rebuild Database through
Recovery Menu
, and launch a game that will do "Sync Trophies" on it's startup in order to get the trophies working properly.
Special thanks to
flatz, chaoszage, skillerCMP, gingerbread, zeick, keha, SHAkA, X-GHOST-X, Zephyer, ngu-tripate, Red-EyeX32, butnut, acab, Petar, Dreamcat4
and many others ;)
PS3 Games Database 1.5
updated 2013-10-28!
This tool lets you create a database of PS3 games and search through it easily.
You can build your own database of collected games in CSV format and use this tool to view and organize it.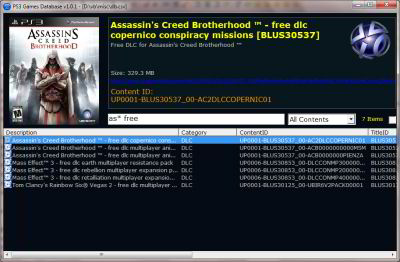 The db.csv included is just an example. You have to build your database yourself ;)
New features: replaced make_package_edat.exe with the new edat-license.exe by KW
Bruteforce EBOOT 1.3.1
new 2013-10-28!
This tool is more an EXPERIMENT than a real key finder... a 128bit key is expected to take milleniums to bruteforce it, but if you are extremely LUCKY you could find a rifkey using this method. Anyway, I'm sharing this because a friend asked me to make it to have some fun.


The tool generates random or sequential values and uses MAGIC333X's bruteforce tool to test thousands or millions of rifkeys per second.
New in this release:
- Added option to open the EBOOT by drag & drop of the file.
Bruteforce Edat 1.2.1 updated 2013-10-27!
It's a dev klicensee bruteforcer that can be used to find the klicensee used on edat files. It uses BuC's dev klicensee validator to test the potential keys and the superfast JjKkYu's EDAT dev_klic bruteforcer tool.


New in this release:
- BruteForce_List_Edat_Klicensees -> Added listing of the RAP in HEX format (if the rap file exists in the RAPS folder) (thank to ZOMBIEKILLAH for the idea)
Special thanks to
Catalinnc
for his awesome contribution discovering the klicensees!
Категория:
Программы и приложения PlayStation
|
Просмотров:
2415
|
|
|
---
---
Добавлять комментарии могут только зарегистрированные пользователи.
[
Регистрация
|
Вход
]