Главная » 2013 » Май » 28 » PS3 Tools Collection 2.3.7
---
11:17
PS3 Tools Collection 2.3.7
Очередное обновление PS3 Tools Collection до версии 2.3.7
Новое в этой версии:
PS3 Bruteforce Save Data 3.8.14
updated 2013-05-27!
It's a frontend for flatz save data tools 0.2.3. It finds the keys of several games in seconds and let you resign your saved games and trophies. A wide selection of cheats for 433 titles is also available ready to be applied to the saves.



Features:
Resign trophies or saves, preview images of trophies, direct FTP download/Upload saves or trophies from/to PS3, unlock saves/trophies to work on any PS3 account, unlock saves/trophies with FAKE account id, added
support for Game Genie cheats
, fixed issue with patch SFO, improved load time. Multiple saves can be resigned in a single step. Direct update of the repository of cheats from
ps3cheating.net
.
Patch Creator 1.3.6
plugin to assist in the creation of save patches.
TIP:
After you resign and replace your trophies, it is required to Rebuild Database through
Recovery Menu
, and launch a game that will do "Sync Trophies" on it's startup in order to get the trophies working properly.
Special thanks to
flatz, Alex @ CMP, skillerCMP, gingerbread, zeick, butnut, acab, Petar, Dreamcat4
and many others ;)
PS3 Games Database 1.4.1
updated 2013-05-22!
This tool lets you create a database of PS3 games and search through it easily.
You can build your own database of collected games in CSV format and use this tool to view and organize it.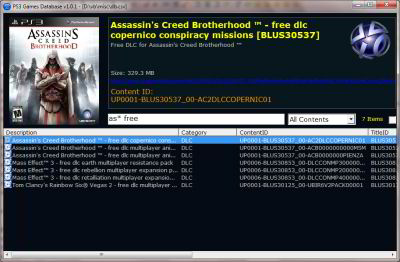 The db.csv included is just an example. You have to build your database yourself ;)
Bruteforce Edat 1.1
updated 2013-05-20!
It's a dev klicensee bruteforcer that can be used to find the klicensee used on edat files. It uses BuC's dev klicensee validator to test the potential keys. The tool works in a similar way as Scetool/Bruteforce tool used to find regular Klicensees.


New in 1.1: Added a new heuristic filter that skip the test of certain keys containing lower case letters or spaces. In general, this option improves the speed by not testing keys with lower probability. However, enabling that option will not find the keys when they contain lower case text.
One interesting finding is that dev klicensees usually are found in the sections aligned to 0x80, 0x40, 0x20 or 0x10. These sections usually are between sections 12-15 and next to the end of the eboot/self, and the devkey is usually found in an offset aligned to 4. However, in some less frequent cases the key can be aligned to 1.
Скачать и обсудить можно
здесь
Категория:
Программы и приложения PlayStation
|
Просмотров:
1117
|
|
|
---
---
Добавлять комментарии могут только зарегистрированные пользователи.
[
Регистрация
|
Вход
]